Protect your home and your safety

It's your home and safety at stake and both gas and water, at the least, can cause a lot of damage. It is a legal requirement for all work carried out on gas appliances, including boilers, to be carried out by gas safe registered engineers such as our staff at D.W. Rodwell.
Worcester Bosch Accredited Installers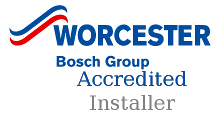 Our heating and plumbing engineers have been trained and passed accreditation to install Worcester Bosch hot water and heating systems. As products are updated and introduced our engineers are retrained to ensure that your plumbing work will perform exactly as the manufacturer intends. Worcester Bosch are at the forefront of domestic heating technology and offer a full range of solar and air to water heat source products to complement their more traditional but still exceptionally advanced gas boilers.
Valliant Heating Engineers

Valliant are an established quality brand when it comes to domestic heating solutions and, whilst we are independent, we do rate and recommend their products. At the forefront of domestic heating they offer solar as well as condensing gas and system boilers. Our staff attend regular training to ensure that we can advise and fit the best valliant boiler for your home.